2021-2022 Annual Education Results Report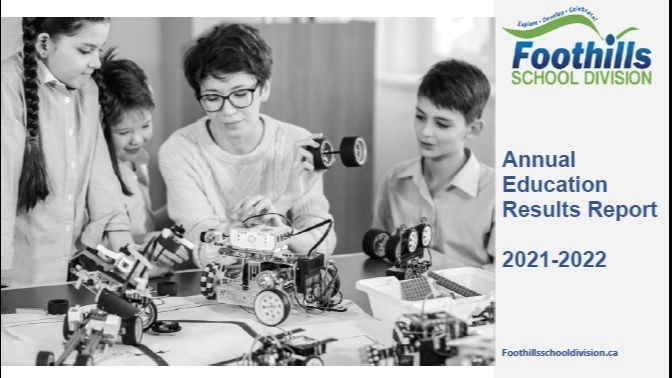 Foothills School Division releases its AERR for the 2021-2022 school year.
There is once again much to celebrate and to be proud of at Foothills School Division, as we share and review our 2021-2022 Annual Education Results Report. Our annual education results report gives us the opportunity to tell our story of engagement, support, and success for each learner. This year's Annual Education Results Report shows the reality of the impact of the pandemic on student growth and achievement and the consequences of disruptions in learning and pandemic restrictions on learning outcomes and the education landscape.
The AERR is a retrospective that uses parent-provided data to drive the Education Plan. Here are some highlights:

Second year of Division-wide professional learning dedicated to Learning that Transfers
Formation of an Indigenous Advisory Circle with the goal to build reciprocal relationships and work together to advance truth and reconciliation
Continued growth in our Students' Matters Committee in the number of students participating and the impact they are having in decision-making and advancing safe and caring cultures, well-being, achievement, and success
Advancing innovation and design has enhanced student understanding of outcomes and competencies through comprehensive, robust programs that have engaged learners in authentic, real-world, experiential, hands-on learning experiences to ensure students are well prepared for the future
Feasibility study and subsequent implementation of before and after-school care programs in 5 schools across the Division
Continued implementation of a full-time kindergarten program in pilot schools across the Division
Completion of Blackie School modernization project
Success in obtaining a Royal Bank of Canada grant supporting youth mental health across the Division
First annual Foothills Youth Mental Health Partnership Summit hosted by Foothills Mental Health Task Force that includes FSD
Ideas that Make Cents public consultation to inform budget building and decisions for the 2022-2023 school year
Comprehensive literacy and numeracy support for learning disruptions from K to 12
Additional quarter million dollars allocated by the Board of Trustees to support addressing learning disruptions from K to 12
Board of Trustees elections introducing three new Trustees and a new Chair to our FSD community
FSD Participation in College of Alberta School Superintendents curriculum development through stories of practice including Indigenous Learning; Supporting Effective Governance; Literacy and Numeracy Support; and Building Purpose, Trust and Team
We invite you to read the complete document and share in our celebration of another challenging, but successful year.